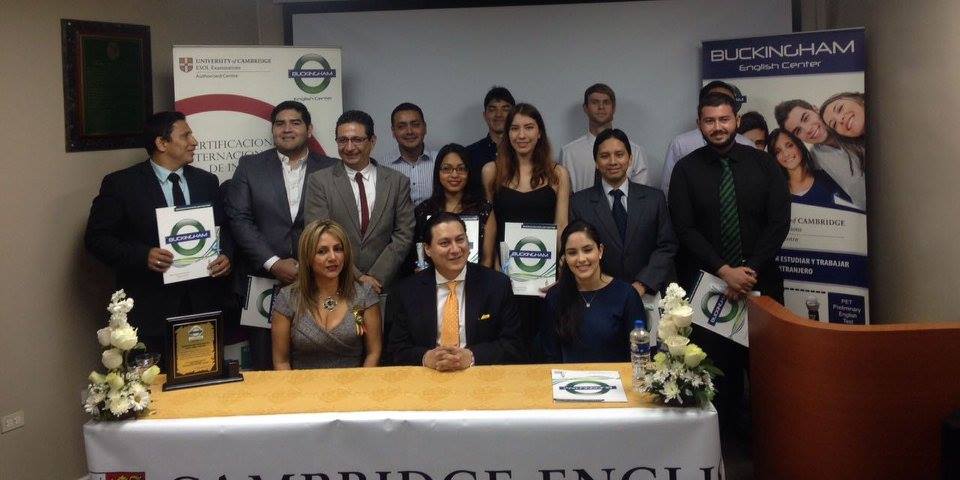 BUCKINGHAM ENGLISH CENTER, is an Education Center, dedicated to train professionals, executives, students from 7 years old and people in general in the English Language area.
BUCKINGHAM ENGLISH CENTER, after an arduous investigation, was able to give shape to an educational program called «Learn as you go,» which involves the help of the DIRECT METHOD / REASONING, which guarantees that in a record time you can master it, without pressure , totally practical and experiential.
Mission
Our mission is to provide our society with a linguistic competence through training to master and improve the English language, recognizing that this is a necessary tool for our technical, technological and cultural development, strengthening ties of cooperation and communication between English speakers and Hispanics
Vision
Our vision is to be an Institution of Excellence recognized in the country that trains people with practical knowledge of the English language to contribute to the changes that the globalized world of today requires.
Our main role
Our function is to select people who really have the interest and the need to learn the English Language, to grant them the benefits that BUCKCENTER has prepared for them:
Academic part: In a record time the students master  the English language.
In costs: A special subsidy. (By academic accreditation and special plans.)
Pedagogical techniques
We use a mother technique called
H

uman

Perceptive Vision

Personalized instruction

Active and experiential mnemonics

Multisensory

Instruction

Repetition spaced
These learning techniques are supported at the same time by methods of guarantee that will make our students have the peace of mind and
the security of a high quality teaching.
Agreements
Instituto Tecnológico Bolivariano, Guayaquil (ITB)
Instituto Tecnológico de Formación Profesional Administrativo y Comercial, Guayaquil (ITF)
Colegio Rosario Sánchez Bruno
Universidad Estatal de Milagro (UNEMI)
Instituto Superior Tecnológico EuroAmericano